Bamboo Weighted Blanket for Kids
$99.00
$109.00
saving
$10.00
Bamboo Weighted Blanket for Kids
$99.00
$109.00
saving
$10.00
Most cotton weighted blankets are designed only for cold weather and may be too hot for your child even during Winter in Australia. A weighted blanket made from a thermo-regulating bamboo shell is the best option if you are looking for a blanket to use all year round. Our Weighted Blanket is made from a breathable outer shell made from 100%  bamboo (300 thread count), so it won't get too hot in warmer weather.
This is a weighted blankets for toddlers and younger children with autism, ADHD, Anxiety, or Sensory Disorders.
Composition: Outer shell - 100% Viscose derived from organic bamboo, Inner - polyester and non-toxic glass pellets.
Please note this item is for the weighted blanket only. It can be used alone. However, we also recommend purchasing an outer cover for the blanket. Available covers include the bamboo cooling cover, minky cover or dual bamboo minky cover.
Designed in Australia using standard Australian Sizing.  Features inner loops to secure it with an outer cover (the outer cover can also be purchased separately).
Composition: Outer shell - 100% Viscose derived from organic bamboo, Inner - polyester and non-toxic glass pellets.

Recommended sizes are:
The 2.2 kg (90 x 120 cm)  blanket for children 15 to 25 kg
The 3.2 kg (102 x 152 cm) blanket for children 25 to 35 kg
Older children may use the 4 kg or 5 kg adult size weighted blanket.
We recommend consulting a occupational therapist before use. We do not recommend children under 3 years to use a weighted blanket.
Inside the Blanket
The Milky Sheets™ Bamboo Weighted Blanket features a 100% bamboo outer cover, which has a cool feeling that is perfect for hot sleepers and can be used all year round including Summer.
The filling consists of hypoallergenic, lead-free and non-toxic tiny glass pellets.
A thin layer of breathable microfiber is added over this for extra protection, followed by a lightweight and thin layer of polyester padding for extra comfort.
The outer bamboo shell is divided into 18 x 15 cm squares to ensure the beads are evenly distributed.
How Do Weighted Blankets Work?
The blanket works by using "deep touch pressure" stimulation - applying gentle pressure to the body during the night to enable you to relax which has a similar effect of being hugged. This type of stimulation helps you sleep by:

1. Relaxing the nervous system and encouraging the production of serotonin, which naturally turns into melatonin – the hormone that is responsible for regulating our sleep cycles.

2. Reducing cortisol, the 'stress hormone' that stimulates the nervous system which makes it difficult to fall asleep.

3. Releasing the 'feel good' hormone, which helps reduce anxiety, blood pressure and provides a calming effect to help you sleep.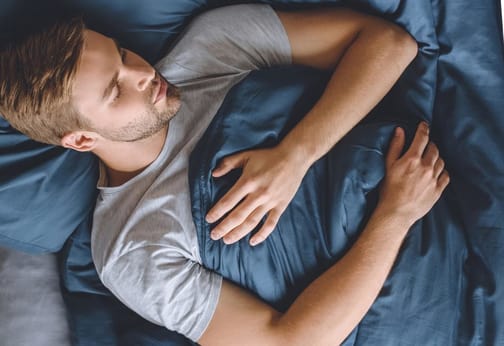 Backed by Scientific Evidence
A study published in the Journal of Occupational Therapy in Mental Health found that weighted blankets helped to relieve anxiety in 63% of participants and 78% found that it actually helped to calm their minds and sleep better.

Doctors have been recommending weighted blankets to patients with restless leg syndrome to help them sleep better and this has proven to be effective.

A study published in the Journal of Sleep Medicine & Disorders on the effectiveness of weighted blankets found that it helps the participants with insomnia to sleep better.