Pure French Flax Linen Sheet Set - Pink Lace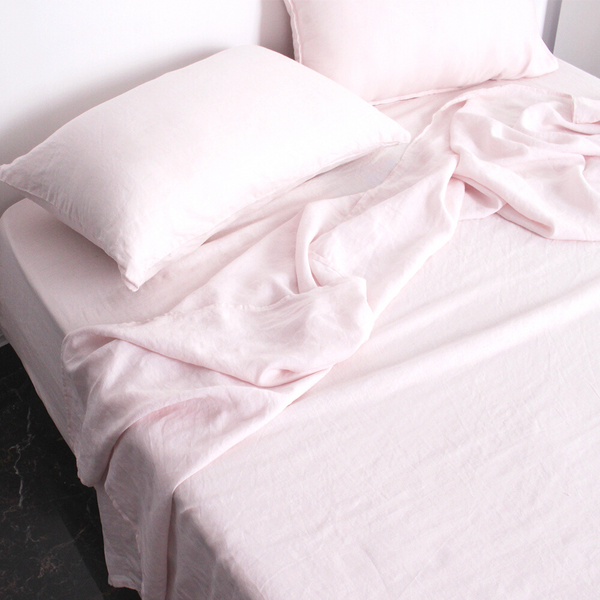 Pure French Flax Linen Sheet Set - Pink Lace
This bed sheet set is made from 100% pure French Flax linen. Each set comes with a drawstring bag so you can store the sheets. 

Why Choose Our Linen Sheets?
Our fabric is crafted from pure linen woven from 100% flax that is grown in France.
We have selected a thickness of 160 gsm which we believe is the perfect weight for linen bed sheets. It is not too heavy and not too lightweight, making it suitable for all year round in Australia's climate.
No Harmful Substances
Our linen is also good for your skin. It feels luxuriously soft against the skin, is breathable and hypoallergenic.
We have tested our linen fabric at third party labs to ensure it is free for harmful substances including formaldehydes and allergenic dyes.

Benefits of Linen
Breathable
Linen is made from flax which has large and hollow fibres, allowing air to circulate naturally.

Moisture-wicking and keeps you cooler longer
Linen is one of the best fabric for those who sweat a lot, as linen can absorb moisture more rapidly than cotton. It also gets more absorbent each time it is washed. Linen also dries faster than cotton so it's easier to launder.

Soft but Durable
Linen is one of the most strongest fibres, with about 3 times the strength of cotton. It can last for many years. It also gets softer each time it is washed.

Hypoallergenic
Linen has a looser weave than cotton, hence it is less likely to trap dirt and dust particles.

Eco-friendly
The cultivation of flax plants is more eco-friendly than cotton, as it is less resource intensive than cotton and results in less wastage.

Machine washable
Sizing
Single
Flat Sheet: 180 x 255 cm, Fitted Sheet: 92 x 191 x 40 cm, 1 Pillowcase: 50 x 73 cm

Double
Flat Sheet: 235 x 255 cm, Fitted Sheet: 137 x 193 x 40 cm, 2 Pillowcases: 50 x 73 cm

Queen
Flat Sheet: 265 x 255 cm, Fitted Sheet: 153 x 203 x 40 cm, 2 Pillowcases: 50 x 73 cm

King
Flat Sheet: 280 x 265 cm, Fitted Sheet: 182 x 203 x 45 cm, 2 Pillowcases: 50 x 73 cm