100% Bamboo Lyocell Bed Sheet Set - Dusty Blue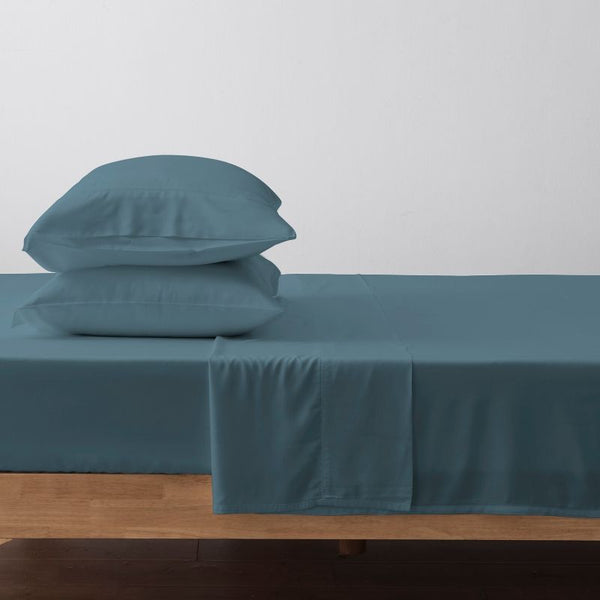 100% Bamboo Lyocell Bed Sheet Set - Dusty Blue
These sheets are made from pure bamboo lyocell fibre which is the highest quality of bamboo fabric available. Bamboo Lyocell is slightly lighter than bamboo viscose, allowing for more superior temperature regulation and moisture-wicking abilities. Made with 300 thread count sateen weave, you will enjoy the same (or better) luxuriously silky feeling than 1000 thread count cotton sheets or pure silk sheets.
Our fabric is made from 100% bamboo fibres that have been organically grown without any chemical pesticides or fertilisers. Our fabric has also been certified by OEKO-TEX® 100 Standard, so you can be assured that here are no harmful chemicals and heavy metals including AZO colorants and carcinogenic dyes.
Matching quilt covers can be purchased here.
SINGLE SHEET SET
1 Flat Sheet - 255 x 180cm
1 Fitted Sheet - 191 x 91 x 45cm
1 pillowcase 48 x 73cm
KING SINGLE SHEET SET
1 Flat Sheet - 275 x 180cm
1 Fitted Sheet - 203 x 107 x 45cm
1 pillowcase 48 x 73cm
DOUBLE SHEET SET
1 Flat Sheet - 254 x 228cm
1 Fitted Sheet - 190 x 137 x 45cm
2 pillowcases 48 x 73cm
QUEEN SHEET SET
1 Flat Sheet - 274 x 250cm
1 Fitted Sheet - 203 x 152 x 45cm
2 pillowcases 48 x 73cm
KING SHEET SET
1 Flat Sheet - 275 x 260cm
1 Fitted Sheet - 203 x 183 x 45cm
2 pillowcases 48 x 73cm
SUPER KING SHEET SET
1 Flat Sheet - 290 x 320cm
1 Fitted Sheet - 203 x 203 x 55cm
2 pillowcases 51 x 73cm